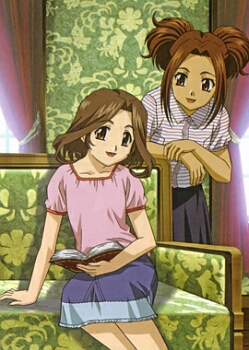 Miu spielt schon sehr lange Klavier. Sie ist ein sehr ruhiges und zurückhaltendes Mädchen. In ihrer Schule gibt es einen Oberschüler den sie sehr verehrt und mag, aber ihn immer nur anzusehen kostet sie viel Zurückhaltung, so ganz alleine.
Ihre Lebenserfahrungen spielen im Rhythmus der Klaviernoten die sie spielt, wie zum Beispiel die schönen Zeiten mit ihren Freunden und ihrer Familie, nicht zu Vergessen der Liebe.
Piano ist ein Anime der leisen Töne und des feinsinnigen Humors. Er entwickelt sich sehr langsam. An seiner Produktion waren bekannte Personen beteiligt. Norihiko Sudo, der Direktor von Comic Party und Asst Direktor von Laputa - Castle in the Sky.
Das Charakter Design ist von Kosuke Fujishima, bekannt aus Oh my Goddess!, Sakura Wars, Tales of Symphonia und Tales of Phantasia. Sowie Junichi Higash, Art Direktor Midori No Hibi und Ai Yori Aoshi: Enishi TV!
Kawasumi Ayako, die Miu ihre Stimme leiht, hat außerdem das Opening für diesen Anime komponiert und eingespielt, da sie schon von klein auf Klavier spielt, so wie Miu.
Zum besseren Verständnis von Piano und thematisch verwandten Animes, haben wir eine kurze Zusammenfassung des japanischen Bildungssystems erstellt. Bitte nachstehenden Link benutzen.
→ Das japanische Bildungssystem
→ Erzählungen von den Heike