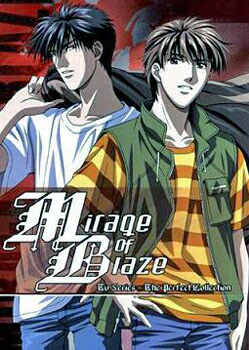 Rebels of the River's Edge (Rebellen am Ufer des Flusses) ist die OVA zur TV Serie Mirage of Blaze.
Takaya wird nach Kyoto geschickt. Er soll die Wiedererweckung der Ikko Sekte untersuchen und Murashige Araki finden, ein ehemaliges Mitgliedes der Sekte, der sich in Kyoto versteckt, seit er aus der Sekte geflohen ist.
Mit Hilfe von Haruie ist Takaya auf der Suche nach Araki erfolgreich. Dieser sucht ein sehr altes, handgewebtes Mandala, das vor 400 Jahren aus dem Haar von verstorbenen Araki-Klanmitgliedern gemacht wurde.
Während der Verfolgung erkennt Haruie Araki als Shintaro Sone, ihren Geliebten von vor 200 Jahren. Takaya ordnet an, dass sie Araki beseitigt aber wird sie in der Lage sein, es zu tun?
Das Wort Mandala bedeutet soviel wie Kreis und bezeichnet ein kreisförmiges oder quadratisches symbolisches Gebilde mit einem Zentrum, das ursprünglich im religiösen Kontext verwendet wurde.
Die Handlung dieses Animes ist anspruchsvoll und setzt etwas Wissen über Japan und die japanische Geschichte voraus. Zum besseren Verständnis, und um den Anime selbst nicht mit Erklärungen zu überladen, haben wir die wichtigsten Personen, Orte und Begriffe in einer Übersicht kurz erläutert.
→ Geschichtliche Hintergründe zu Mirage of Blaze